Volvo Cars Melbourne

Service Center

When Your Car Needs Maintenance & Service, We Will Be There for You 
Maintenance and service are essential facts of vehicle ownership, whether you purchased a new Volvo or a used car from Volvo Cars Melbourne. While the resilience of the Volvo brand, as well as the other brands we carry, are well known, a car is not self-maintaining. Every few miles, your car should be brought in for routine maintenance in order to prevent long-term issues and to ensure that the vehicle is kept in good health. A service appointment for your new Volvo or used car is exactly like taking yourself or your kids to a doctor for a routine checkup, so when your car needs maintenance, bring it in to people who know the Volvo brand best. Schedule a service appointment with our full-certified service center and come see us today here at Volvo Cars Melbourne, our service center is on-site right here in Melbourne, FL and is just less than 10 minutes outside of West Melbourne.
Hours
Monday

7:30AM TO 5:30PM

Tuesday

7:30AM TO 5:30PM

Wednesday

7:30AM TO 5:30PM

Thursday

7:30AM TO 5:30PM

Friday

7:30AM TO 5:30PM

Saturday

8:00AM TO 1:00PM

Sunday

Closed
We Know Volvo Best!
You may ask yourself why our Melbourne, FL service center near Palm Bay is the right place to go, when there may be mechanics close by to where you live. Well, the simple answer is that our technicians know the Volvo brand best and each of these mechanics are trained by Volvo to perform a variety of maintenance procedures on your new or used luxury car. Whether your Volvo requires more simple maintenance; such as an oil change, tire rotation, alignment reset, or multipoint inspection, or more intricate repairs, our service center mechanics are there to help! Our service center is fully certified to handle Volvo repairs and our mechanics are fully certified by Volvo to provide said repairs, whether they are a newer technician or a seasoned veteran. Your Volvo reflects who you are as a person, you deserve to have it cared for by mechanics who respect the luxury and sophisticated craftsmanship of these respectable Scandinavian cars. Our mechanics also utilize genuine Volvo parts in their repairs for maximum compatibility.
All of the Service Your Volvo May Need!
As your Volvo continues down its long lifespan, it may require different service procedures when you bring it in for maintenance. As with any appliance, a vehicle's parts undergo natural wear and tear, which is why our service center mechanics perform multistage inspections during routine maintenance to ensure that your new or used Volvo S560, Volvo XC90, or Volvo XC40 is in tip-top shape and that any upcoming maintenance needs are resolved. In the first few years of ownership, your new or used Volvo may only require oil changes, tire rotations, and alignment repair among other maintenance projects, but these are all critical in ensuring that the vehicle continues to perform exceptionally as long as possible. If you have owned your Volvo XC60 in Rockledge for a bit longer and you hear a strange nose coming from the hood, bring it in for service as our technicians can immediately diagnose the issue and will keep you posted if any further maintenance is required down the road.
Get your Volvo auto service needs taken care of in Melbourne at our Volvo auto repair center. Even if you don't drive a Volvo, we can still perform car repair on your vehicle, no matter if the problem is large or small. Our Volvo of Melbourne service and repair center serves drivers from Melbourne, Sebastian, Palm Bay and Rockledge. Our highly trained and certified technicians are dedicated to treating your car as if it belonged to them.  In addition to great service, we will repair your vehicle with only the finest Volvo parts.
Why People Choose Us for their Volvo Service Needs
When you're waiting for your vehicle to be repaired, relax in our beautiful showroom complete with a comfortable lounge area, free coffee, snack machines, free WiFi and a large flat screen TV. You can rest assured that your vehicle is in the best hands with our trusted service staff. Below are some reasons why drivers from the West Melbourne, Rockledge, and Palm Bay area prefer our service center.
Volvo of Melbourne Offers:
Complete line of factory diagnostic equipment that's not available at independent service shop
New Volvo Loaners if your car is here overnight
Local shuttle service
We also offer Volvo Service Advantage which includes
:
2 year parts and labor warranty on all work performed
Complimentary software updates
Up to 1 of hour free warning lights check
Our auto repair center in Melbourne is located conveniently at 4340 W. New Haven Blvd, Melbourne, Florida. We are just a quick drive from the greater West Melbourne, Palm Bay and Rockledge areas. Make sure to call us for more information, stop by in person, or fill out the appointment form here. We'll get back to you as quickly as possible.
*Your privacy is important to us. Volvo of Melbourne takes your privacy seriously and does not rent or sell your personal information to third parties without your consent. Read our privacy policy.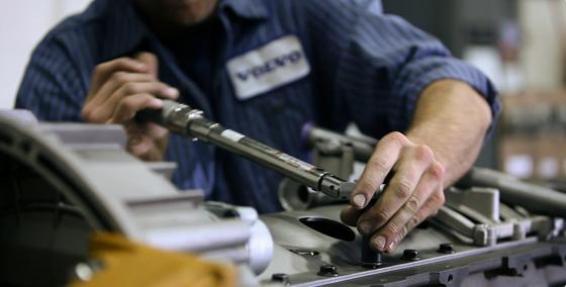 Your Volvo is in the best hands with our expert Service Staff of:
3 Volvo Master Certified Level Technicians, plus
The #1 Top Certified ASE Technician in the USA!

We recently won the Gold award for "Volvo's Service Satisfaction Leaders" from Volvo Cars of North America,  which is given to Volvo dealerships that prove their commitment toward the highest level of customer satisfaction. What's more, only a handful of the very best dealerships are bestowed this honor.
Get Started Today!
Our service center is fully certified by Volvo, which makes it a great place to trust for all of your Volvo service and repair needs! Come see what we are all about at Volvo Cars Melbourne and schedule a service appointment today through our online portal. Our service center is located on West New Haven Ave in Melbourne, FL and we hope to see you soon!