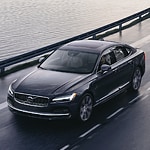 The 2022 Volvo S90 here at Volvo Cars Melbourne is equipped with an advanced forward collision warning system. This system uses a camera and radar to detect potential danger in the form of objects or vehicles ahead, helping to alert drivers of any potential crash risks.
The 2022 Volvo S90 also features Automatic Emergency Braking technology. It uses a combination of radar and camera to detect objects or vehicles ahead in the vehicle's path. It will automatically apply the brakes if necessary to avoid a collision or reduce its severity. This is especially helpful when driving in dense traffic in Melbourne, FL.
Seat Belt Warning is a standard safety feature on all Volvos. It monitors the driver and front passenger to make sure their seatbelts are fastened before driving, which can help reduce the chance of injury in an accident.
Volvo's Dynamic Stability and Traction Control is an advanced system that helps keep the vehicle steady while driving in a variety of conditions. It uses sensors to detect when the car is starting to lose traction and automatically applies brakes to help bring the car back on track.